"Keystones Of Our World" is a book-series,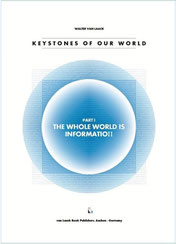 starting on May 11, 2017
           with its first part:
        "The Whole World
          Is Information"
                ISBN 978-3-936624-33-5
Softcover (SC), 72p. (2017), 8,00 €
                ISBN 978-3-936624-34-2
                E-Book (2017)
Summary
Modern Natural Science preaches materialisms.
 But is this the right notion, even so characteristic of our times?
The author is a practicing medical specialist and a professor at a German University of Applied Sciences. He has lectured at a natural scientific-technical faculty for many years.
He is convinced that materialism is not the right explanation and he believes that he can prove this by means of confirmed natural scientific knowledge.
With this new book series the author takes a sharp and consistent observation beyond the horizons of all important scientific fields and with impressive logic he leads us towards a plausible but alternative perception of the real world.
This first volume provides us with elementary mathematical logic, found both in the whole universe with its amazing natural constants and in the genome of life.